Welcome to Our Parts Department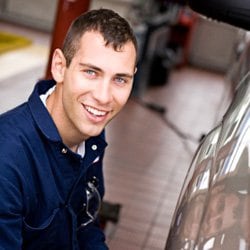 At Laird Noller Lawrence Ford, we pride ourselves on using the very best high-quality official Ford and Motorcraft® parts to service and repair your Ford vehicle. Thanks to our Parts Department, you can be confident that any parts we use on your vehicle will match the original ones installed at the factory.
Designed especially for your Ford
Just as the people who work on your vehicle should be qualified and well-trained experts, the parts they use should be designed specifically for your vehicle. These are known as original equipment manufacturer, or OEM, parts. That's exactly what you'll get at Laird Noller Lawrence Ford, where our technicians use genuine Ford Parts and Ford-backed Motorcraft® parts. Doing some wrenching on your own? Use the parts request form below to order the exact new OEM parts you need for your Ford vehicle.
Assured quality
The parts in your vehicle go to work every time you hit the streets of Lawrence, Kansas. Genuine Ford or Motorcraft® parts that fit properly and function exactly as they should will help your vehicle perform more efficiently and reliably. They'll last longer, too, which means you can save money on replacing parts over time. 
Great warranty coverage
When we use Ford and Motorcraft® parts to service your vehicle at Laird Noller Lawrence Ford, they're backed by a strong warranty. This guarantee lasts for two years or unlimited mileage, and it covers labor costs, too. With a warranty like this, you can enjoy extra peace of mind after bringing your vehicle in for repairs or service.
Whether your Ford needs extensive repairs or routine service, it deserves the finest OEM parts to help it run the way it should. Here at Laird Noller Lawrence Ford, we'll make sure you drive away in a vehicle serviced with the very best genuine Ford and Motorcraft® parts.